Hablamos Espanol
On-site Training
CALL NOW FOR PRICING
(888) 978-0178
3 Aerial Lift Hazards to Watch out for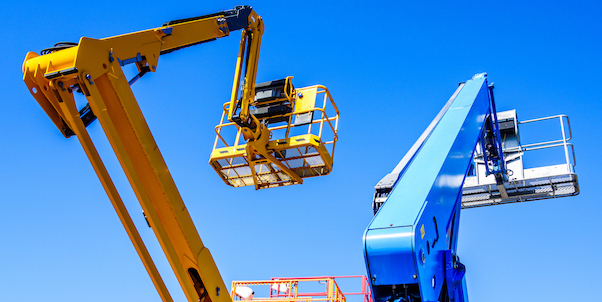 Aerial lifts, the vehicle-mounted device that allows you to work at elevated heights, can be pretty dangerous. And accidents involving aerial lifts aren't uncommon.

According to OSHA statistics, around 300 to 400 employees are involved in accidents every year using scissors or aerial time. Hence, it's critical to know about some common hazards associated with aerial lifts so you can stay safe.

Let's look at some of the common types of aerial lift hazards to watch out for.
3 Aerial Lift Hazards to Watch out For
#1. Falls from Heights
One of the most common accidents involved with the use of aerial lifts is a fall. Given that the equipment allows you to work at heights that would otherwise be unachievable, organizations must train their employees about using appropriate safety equipment while using an aerial lift.

Moreover, employees should also get proper training on how to appropriately use the aerial lift so they can prevent falls.
According to OSHA requirements, it's critical for all aerial lift workers to wear adequate fall protection equipment at all times when using the aerial lift. It includes a full-body harness. Moreover, workers also need to ensure that they stand firmly on the platform they use. Furthermore, they should avoid climbing the guardrails, ladders, and plans while working on the aerial lift.

Lastly, aerial lift users must avoid tying themselves to the structure or poles while in the bucket. Adherence to the company's personal protective equipment (PPE) policies will also help reduce the risk of falls while working on an aerial lift platform.
#2. Electrocutions
One of the studies conducted between 1992 and 1999 found that electrocution makes up 50% of all fatal accidents impacting aerial lift workers.

While it was a significant hazard in the last century, it still continues to be a significant threat to aerial lift workers' lives. It is still common for organizations to ignore OSHA regulations related to electricity which results in electrocutions. Aerial lift operators involved in overhead line work have an increased risk of being electrocuted by unprotected power lines and cables, which leads to an increased risk of getting seriously injured or even killed on the job.
Therefore, employers must follow OSHA regulations to prevent electrocutions by sticking to the following regulations.
Invest in and always wear personal protective equipment (including insulated boots, gloves, and clothing) and avoid belting off to the pole or any other structure instead of the lift's attachment points, and
Consider all overhead power transmission lines and communication cables as live, and potentially life-threatening and stay at least 10 feet away from them.
#3. Collapse and Tip-Over
One of the deadliest types of workplace hazards involving aerial lifts is tip-over which is often a result of improper equipment handling. When there is excessive load on the lift, or the aerial lift is loaded with exceptionally large objectives and the platform is raised while driving, it can contribute to tip-overs.
Moreover, the other potential aerial lift hazard to watch out for is the collapse of the lift. An aerial lift can collapse due to mechanical failure. However, it can also collapse due to a lack of maintenance and adequate inspections. Every aerial lift that is in use must go through thorough pre-operation inspections, which ensures that the machine is in the appropriate condition and ready for its job.

To ensure that collapse and tip overs don't take place at worksites, it's critical to ensure the following measures.
Provide adequate training to your employees, so they know how to avoid tip-overs while working on the lift,
Appropriate maintenance and adequate inspections of the aerial lift before each job,
Do not exceed the load capacity limits,
Do not raise the platform while driving or when you are on uneven or unstable surfaces,
Continue with the job only in safe working conditions (check the weather forecasts beforehand and avoid working in exceptionally windy conditions).
Preventing Against Common Aerial Lift Hazards
There are several things that employers and aerial lift operators can try out to protect against aerial lift hazards. Some of the effective measures include the following.
Conducting Appropriate Inspections
It is critical to evaluate an aerial lift before your employees get started using it. Ensure that the aerial lift is evaluated appropriately to ensure that all lift controls function correctly. Moreover, it's also critical to remember that inspection isn't a one-off event. Instead, it should be performed every time before using the lift.
Invest in Appropriate Gear

When using an aerial lift, aerial lift operators must wear adequate gear that can help prevent them from falling from the lift. Moreover, the appropriate gear also helps reduce the risk of injury in case of a fall.
Provide Adequate Training to Aerial Life Operators
It is now clear that an aerial lift operator with little or no training is a threat to his own safety and to the safety of the equipment and worksite. Hence, if you are looking for ways to prevent aerial lift hazards, you need to invest in adequate training for all your aerial lift operators.
Employers throughout the country are required to train their employees by OSHA. If you haven't yet invested in your aerial lift operator's training, now is the time to do so. All Purpose Aerial Lift Training offers you a complete aerial lift training package for all your aerial lift operators. Whether you prefer an online training session or want your aerial lift operators to attend in-person training, All Purpose Aerial Lift Training is there to assist you at each step.
Learn more about aerial lift training by calling (888) 501-1355 or reaching us online. We look forward to providing you with the assistance you need to ensure a safe working environment for your employees.