Hablamos Espanol
On-site Training
CALL NOW FOR PRICING
(888) 978-0178
5 Integral Aspects of Genie Boom Lift Functioning You Need to Know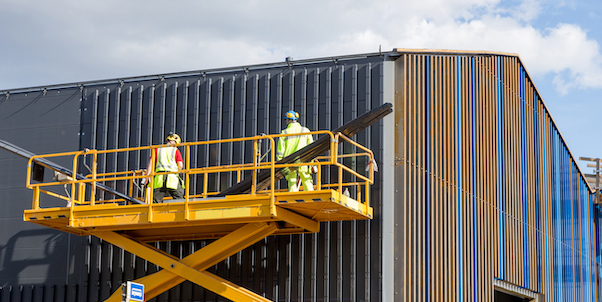 Genie boom lifts are a type of aerial lift used to reach elevated areas or objects. Genie lifts come in various sizes and configurations, with different types for indoor and outdoor settings. Genie lifts are designed for both vertical and horizontal applications, allowing operators to adjust the lift height and reach depending on the task. Genie boom lifts are powered using electric motors or an engine, depending on their intended use.
Genie boom lifts are powerful and versatile machinery used in many industries. They provide great reach to workers, allowing them to do their jobs safely and efficiently. Genie boom lifts have become essential to any job site or factory floor – but only if they're operated correctly. To ensure Genie lift safety, operators need to understand the basics of Genie boom lift functioning. Let us look at a few integral aspects of genie boom lift functioning.
Components of a Genie Boom Lift
A genie boom lift comprises of various essential components. The various components of genie boom lifts include the following:
Boom: The boom is the main component of a genie lift, providing the height and reach to make the lift function properly. It consists of several parts, including the base, arm, jib, turntable, and a counterweight.
Drive System: This includes the engine or motor responsible for powering the genie lift and any gears or chains needed to move it around.
Controls: Most genie lifts are operated with a joystick or set of buttons that control their movement and direction.
Safety Equipment: All genie lifts have safety equipment such as harnesses, brakes, and chains to ensure operator safety while on the lift platform.
Platform: This is the area on which the operator stands while operating the genie lift.
Power Source: Genie lifts are powered by electric, gas, or batteries, depending
Jib: This is the part of the genie boom that allows it to reach out and up, providing extra reach for jobs requiring a long reach.
Counterweight: The counterweight helps stabilize genie lifts when working on uneven surfaces or in high winds.
Tires / Outriggers: These devices provide stability for genie lifts when they're in use and mobility when needed.
Genie Boom Lift Training Requirements
Operating a genie boom lift requires proper and thorough genie boom lift training. This includes learning about the components of genie boom lifts, understanding how to operate them safely, and becoming familiar with their various safety features and protocols. Training should also include inspection procedures for genie lifts before use, specific instructions on how to move the lift, and proper maintenance techniques. Genie boom lift operators must also be trained to react in emergency situations.
By following these steps and taking genie boom lift training seriously, workers can ensure they operate safely and efficiently. Ultimately this will help prevent accidents or damage to the genie boom lift - making it one of the best investments you can make for your business.
Improve your skills with easy online aerial lift training.
Safety Procedures for Operating Genie Booms
There are several safety procedures to follow when operating genie booms.
Inspect Before Use: Prior to using a genie boom, operators should inspect it for any signs of damage or wear. This includes checking all the components, such as the genie boom arm and its connection points, tires, outriggers, brakes, and chains.
Secure Loads Properly: When carrying a load on a genie lift, ensure it's secure by tying it down with straps or ropes if necessary. It's also important that loads are evenly balanced and placed in the center of the genie lifting platform.
Keep Hands and Feet Clear: Operators should keep their hands and feet away from moving parts of genie booms to avoid potential injury.
Follow Manufacturer's Instructions: Operators should always follow the manufacturer's instructions for genie boom operation and maintenance.
Be Aware of Surroundings: When moving genie booms, operators should be aware of their surroundings and consider factors such as uneven surfaces, overhead power lines, or windy conditions.
Wear Safety Gear: Operators must also wear safety equipment while operating genie lifts, such as a hard hat, harness, and protective eyewear.
By following these safety procedures when operating genie booms, workers can help ensure accident prevention and successful job completion.
Maintenance Guidelines for Genie Boom Lifts
Regular maintenance of genie boom lifts is essential for extending the life of the equipment and maximizing its efficiency. Proper maintenance can also help prevent accidents and costly repairs.
Inspect Regularly: An experienced technician should inspect Genie booms regularly to ensure all parts are in good working condition, free of debris and dirt, and that all components are securely attached.
Replace Parts as Needed: Worn or broken genie lift parts should be replaced immediately to ensure safety while operating the genie boom.
Clean Regularly: It's essential to keep genie boom lifts clean of any dirt or debris buildup to maximize performance and reduce wear on components.
Follow Manufacturer's Instructions: For more specific maintenance instructions, operators should refer to the genie boom's user manual.
These are simple guidelines for genie boom lift maintenance that can help ensure a smooth and safe operation of genie booms. With proper genie boom lift training and regular maintenance, genie boom lifts can be a valuable asset to any business or project.
Troubleshooting Common Issues
Genie booms can occasionally run into problems, and operators need to know how to troubleshoot these issues. Here are some tips on how to handle common genie boom lift issues:
Inspect Connections: Ensure all electrical connections are securely fastened. Faulty wires are a common issue, and any loose connections can cause the boom lift to malfunction.
Check Hydraulic System: Check for any visible leaks in the hydraulic system of the genie boom, as well as any signs of wear or damage on hoses and seals.
Test Controls: Test out all genie boom controls, such as steering levers, joysticks, brakes, etc., to ensure they're functioning correctly.
After proper genie boom lift training, you will be well-versed in handling many issues that can arise when operating. However, if you still experience any genie boom lift problems that can't be solved on-site, contact a certified technician to come and repair the genie boom as soon as possible.
Final Thoughts
Genie boom lift functioning is an important skill to master for those involved in the construction, maintenance, and repair industries. Through genie boom lift training and regular genie boom lift maintenance, operators can help ensure the safe operation of genie booms and avoid costly repairs. It's also beneficial to be familiar with common genie boom issues and how to troubleshoot them. With these five integral aspects of genie boom lift functioning taken into account, workers can better ensure a successful job completion every time.
All Purpose Aerial Training for All Your Lift Training Requirements
All Purpose Aerial Lift Training is a highly professional organization in aerial lift training. Their competent instructors have helped many individuals and organizations by providing operator training according to federal and state guidelines.
The team uses thirty years of experience to deliver the highest standards and create a positive training environment. They provide training on various types of lifts, and all trainings meet the Occupational Safety and Health Administration (OSHA) standards. You can learn more about All Purpose Aerial Training here.