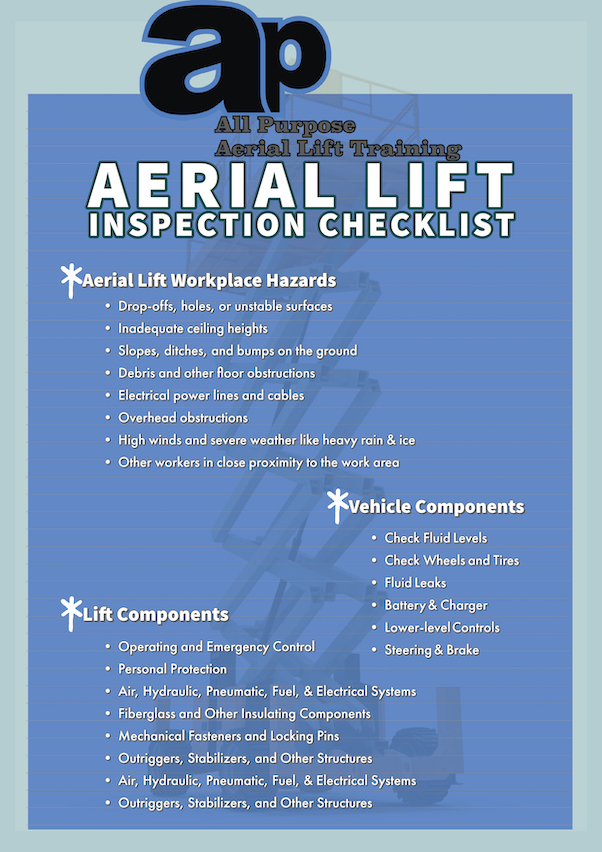 Aerial Lift Pre-Start Inspection
Aerial lift safety starts before you actually use the equipment. A pre-start inspection checklist and a maintenance plan are some of the best ways to avoid accidents and injuries on the job. Before you can begin work with the aerial lift, operators need to inspect the equipment to make sure there are no damaged or faulty parts that can cause an unsafe situation while working. The pre-start inspection covers each component of an aerial lift to ensure the safety of the machine and is completed before each work shift. The pre-start inspection is broken up into two main sections: the vehicle components and the lift components.
Vehicle Components
Oil
Hydraulic
Fuel
Coolant
If your lift's oil or hydraulic fluid is low, safety can be compromised. Don't skip this important step!
Check Wheels and Tires:
Slips, skids, and tip-overs can be caused by faulty wheels and tires. Make sure your tires are at the minimum PSI limit.
Fluid Leaks:
Obvious fluid leaks should be inspected by your company's maintenance personnel.
Battery & Charger:
Check battery charge and don't get stuck with no place to go - check your battery and charger before each use.
Lower-level Controls:
A general pre-start inspection will enhance overall safety.
Steering & Brake:
Control is everything for an aerial lift operator. Ensure your pre-start check includes a thorough inspection of the steering and brakes.
Warning Devices:
Including the horns, gauges, lights, and backup alarms: Your safety M systems can make all the difference. If something isn't working properly a light, an alarm, or another safety device - do not use the aerial lift.
Lift Components
Operating and Emergency Control:
This should be part of your regular inspection protocol.
Personal Protection:
Safety gear
Guardrails
Harnesses
And other personal protective equipment (PPE) are a must for pre-start inspection.
Air, Hydraulic, Pneumatic, Fuel, & Electrical Systems:
Your aerial lift depends on proper promises. Don't skip this important step!
Fiberglass and Other Insulating Components:
Insulation is important, especially for outdoor activities. If any insulation is cracked, missing, or damaged, consult with your safety supervisor.
Mechanical Fasteners and Locking Pins:
One small pin or one missing connection can spell disaster up in the air. A proper pre-start inspection doesn't skip the smallest details!
Outriggers, Stabilizers, and Other Structures:
For heavy-duty jobs, additional equipment like outriggers, stabilizers, and supporting structures may be required.
Air, Hydraulic, Pneumatic, Fuel, & Electrical Systems:
Your aerial lift depends on proper hydraulic, electric, and mechanical processes to be working smoothly. Check your manufacturer's operating guide to ensure these systems are performing as intended. mum PSI limit.
Aerial Lift Workplace Hazards
While your lift may be working properly, your safety can suffer if the surrounding area has hazards. Keep an eye out for the following safety issues:
Drop-offs, holes, or unstable surfaces
Inadequate ceiling heights
Slopes, ditches, and bumps on the ground
Debris and other floor obstructions
Electrical power lines and cables
Overhead obstructions
High winds and severe weather like heavy rain & ice
Other workers in close proximity to the work area
Looking for a crane license?
Looking to become a crane operator and don't know how to go about getting a crane license. All Purpose Crane Training is a school that can help. We offer nccco certification courses onsite nationwide.