Hablamos Espanol
On-site Training
CALL NOW FOR PRICING
(888) 978-0178
All You Need to Know About Genie Aerial Lift Training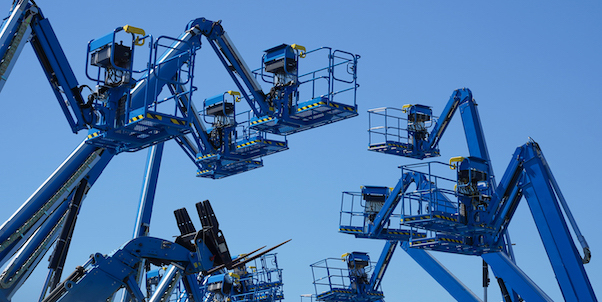 Genie lifts make one of the most popular brands of aerial lifts, which have been around worksites since the 1960s. The lightweight and compact aerial lift make working on various platforms convenient and ideal for applications that require vertical heights.
If your worksite involves the use of genie aerial lifts, it's critical that your workers learn how to operate it. Adequate genie aerial lift training equips the operators to safely and efficiently deal with this equipment so they can maximize their productivity while ensuring their safety at work.
All Purpose Aerial Lift Training offers nationwide aerial lift training courses. The courses can be offered on-site and online and are customized to meet the specific needs of your workers. Our training programs are designed to fulfill all OSHA requirements for the general and construction industry.

Now, let's look at everything you need to know about genie aerial lift training.
Genie Lift – Overview
Genie is one of the most popular aerial lift brands available on the market that is used to handle a variety of materials and equipment. It allows operators to access otherwise hard-to-reach vertical distances.
While there's no obligatory training requirement for operating Genie aerial lift, most employers have two requirements which include
Age restriction where an operator must be at least 18 years or older, and
Operators must have an OSHA-certified Genie aerial lift certification.
Since a Genie lift can be set up and operated by a single person, providing adequate training to your employees helps ensure a safe working space. It can significantly reduce the risk of on-site accidents, including the accidents of the operator as well as other employees working at the worksite.
Why is Genie Aerial Lift Training Deemed Essential?
Allowing operators to work on a Genie lift without appropriate training can be dangerous. With adequate training, operators have a much higher risk of an accident. Moreover, without training, the operators and all the other employees working on the site are exposed to risk. In case of an accident, the operator's life is in danger as they are prone to severe injuries, which may even prove fatal. Moreover, the lives of other employees who are not directly using the Genie aerial lift are also in danger, as any work site accident will expose them to a significant risk.
In case of a Genie lift accident on the worksite, it can also threaten the employers' integrity as they may have to face legal consequences for working with an untrained Genie lift operator.

However, when you provide adequate training to the lift operators operating Genie lift, you can provide them with a safe working environment that helps boost their productivity.
How to Protect Your Business and Employees Against the Potential Damage Due to Inadequate Genie Lift Training?
Getting training to safely operate a Genie lift from a reputable trainer such as All Purpose Aerial Lift Training is a quick, convenient and cost-effective solution to protect your business and employees against any potential damage resulting from inadequate Genie lift training.
The all-inclusive training packages offered by All Purpose Aerial Lift Training equip Genie lift operators to apply appropriate operating procedures and adequate safety principles when using the lift.
Learn more about Genie Aerial Lift Training by All Purpose Aerial Lift Training by getting in touch with us today.
Genie Aerial Lift Training Certification – What it Includes?
If an employer decides to provide Genie aerial lift training certification for the employees, it's important that they choose a certified and experienced trainer who can provide adequate training to the employees.

A typical Genie aerial lift training program from a reputable trainer includes the following features;
Providing operators with information about how to safely use the Genie aerial lift to reach vertical distances,
Equip operators with an understanding of how to ascend and descent safely along with all the other safety protocols that they should follow while using the Genie lift,
Enable operators to recognize, avoid and deal with any potential workplace hazards such as falls, collisions, falling objects, and electric shocks.
Provide insights into how to appropriately use personal protective equipment, including tethers and safety harnesses to minimize injuries in case of a fall or any other accidents, and
Offer an online or hands-on learning experience to operators on how to run the regular pre-work check-up of the equipment and handle any mishap in case of an emergency.
A typical Genie aerial lift training program can be completed in a single class, and once the worker earns certification for the training, it remains valid for up to three years.
Why Choose All Purpose Aerial Lift Training for Genie Aerial Lift Training?
If you intend to train your Genie lift operators to use the lift safely and productively and choose the services of All Purpose Aerial Lift Training, here are a few benefits that your employees will enjoy.


Acquisition of all the relevant skills required to safely and productively perform all the operations involving Genie aerial lift, Complete know-how of proper operations and maintenance of a Genie aerial lift, and


Flexibility to receive online or on-site training depending upon the needs of your employees.
All Purpose Aerial Lift Training ensures that all your aerial lift operators acquire a complete set of skills that is essential for them to perform their job safely. For employers, we intend to create a safer workplace that doesn't turn out to be a source of any legal concern for your entity.

Contact us today to learn more about our aerial lift training programs and how we can assist you depending on your needs.