Hablamos Espanol
On-site Training
CALL NOW FOR PRICING
(888) 978-0178
OSHA Aerial Lift Training Requirements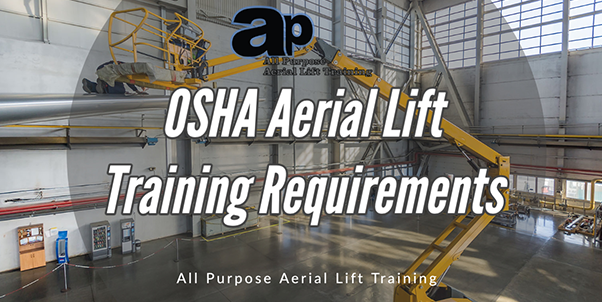 OSHA Aerial Lift Training Requirements
OSHA has aerial lift training requirements aren't set in place but some sort of basic training definitely should be in place before operating on a jobsite.
Does OSHA require aerial lift certification?
The easy answer is no when it comes to aerial lifts like scissor lifts. Currently, there are no qualifications or aerial lift certification in place by OSHA or the manufacturers of scissor lifts for operators to be certified. According to OSHA only authorized persons that have been very well trained should operate an aerial lift.
There are no specific OSHA aerial lift requirements for scissor lift operators to be certified.. With respect 1926.453 requires that fall protection must be used when working in a scissor lift. Employees must wear fall protection at all times, including when in transit from one work location to another.
Do you need certification to operate a boom lift?
1926.32(d) an authorized operator by the employer must perform the job at the jobsite. OSHA standards and regulations are not specific, aerial lift operators are not required to be either certified or qualified. Employers should train employees to be sure operators are capable of using a boom lift safely.
Aerial lifts are mobile elevated work platforms also recognized as scissor lifts or vehicle-mounted lifts, boom-supported aerial platforms, such as cherry pickers or bucket trucks, used to access utility lines and other aboveground job sites. The major causes of fatalities are falls, electrocutions, and collapses or tip-overs. The movement of the lift makes it very possible to crush workers.
How many common types of aerial lifts are there?
Common aerial lifts fall within three main categories; scissor lifts, boom lifts, and telehandlers. Although they may seem very similar, each one serves a unique purpose and is best suited for different jobs and environments.
Aerial Lift Training School
All Purpose Aerial Lift Training school provides nationwide aerial lift training courses for scissor lifts, boom lifts, and telehandlers. We have training courses that are available online or on-site. Also, become an aerial lift instructor for employers in the aerial lift industry. Our training can be handled onsite or offsite in English or Spanish. For more career options in the mobile crane industry enroll in our crane operator school interested just give us a call toll-free at (888) 501-1355.